Fast adoption. Quick deployment. Experienced team.
As one of the top partners PBCS (Planning Budgeting Cloud Service) partners for Oracle, you can trust the experience of the Quantum team to deliver. Building on the experience of Hyperion implementations, the PBCS services focus on the core steps to get the most from your planning and budget application in the cloud.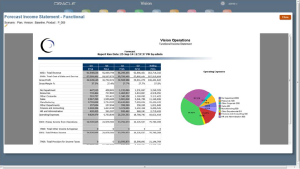 Quantum's services for Oracle's Planning and Budgeting Cloud Service (PBCS) delivers quickly, effectively and tailored to your business. With certified EPM experts working along side your team, you will receive expert advice on how to
configure the cloud,
enable procesess,
setup business procedures, and
train your users based on their role.
Saving costs
Using experienced PBCS resources means no guess work at how to approach the project or deploying in the cloud. This means a cost-effective, no-frills, approach. We know exactly what it takes to setup and start using Oracle's PBCS based your needs. We even show you tips and techniques to maximize the environment without cutting corners.
Moving to the cloud has many advantages. Using an Oracle Partner with deep EPM and Cloud experience doubles your advantage.
Contact us to learn more and start using your new cloud project today.