Self-Service Information
How to Improve Management Reporting
CFOs are looking for management reporting solutions to streamline their period-end reporting, improve transparency and visibility, and comply to new disclosure requirements while ensuring the financial data quality and integrity. For growing organizations, achieving this fundamental business need can be challenging when attempting to support the data demands through static spreadsheets.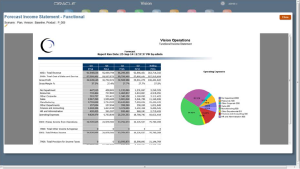 ​
When analyzing this issue in more detail, spreadsheets are a core problem and inhibitor of reporting process best practices. A fundamental challenge of spreadsheets and many reporting tools is that it is static in nature and depends on the effectiveness of predicting the business issues. However, many answers that business unit managers require day in day out are very unstructured and unpredictable. Because of this unstructured nature for unpredictable information, reporting tools must be flexible and dynamic to accommodate to the specific data consumer, which is why access to interactive dashboards and financial reports are critical system requirements.
​
System access to data is an age old challenge to all organizations and it is a core support initiative of IT organizations. Without the right tools, Finance as data gatherers will continue to rely heavily on IT processing of their data, resulting in time inefficiencies, decision delays, and higher operating costs. Transform your team from data gatherers to value added analytical business partner.​​​​​​​
Contact us to get examples on how we've worked with CFOs and Finance teams to implement Oracle EPM and BI tools.