PBCS 11.1.2.3.00 FDMEE Export To Excel Output Blank
Are you receiving a blank spreadsheet with just headers when you export, let's say Account dimension to Excel?
If you're on an on-premise deployment, there's an Oracle KM article that will resolve this issue for you.
But what if you don't have access to the servers and on the cloud for FDMEE?
There is a quick workaround solution for this issue which is to …
In the Map screen, click and hold on to the scroll bar and drag from top to bottom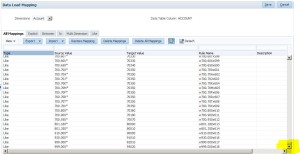 2. Export to Excel